Classification
VIDEO GAME
Keywords
Market
This title is used by the following domains:
---
Audience
This title targets the following audience:
Age :
12 to 16 years old
/
17 to 25 years old
General Public
---
Gameplay
The gameplay of this title is
Game-based
(designed with stated goals)
The core of gameplay is defined by the rules below:
---
Similar games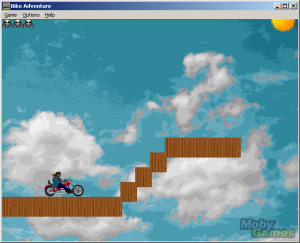 100-in-one Klik & Play Pirate Kart
---
Specter's fed up with losing time and again in his attempts to take over the world. So he's decided to train his army of monkeys! With the finest tutors at Ape Academy, and himself as headmaster, he's sure to whip his students into shape!
Ape Escape Academy sees you taking on the role of one of the cheeky monkeys from the Ape Escape series. Choose your chimp, then prepare to tackle various classes in Academy Mode. Each 'class' is actually a mini-game. Your goal is to complete as many mini-games as possible from the 9x9 grid, and score as many lines as you can (sort of like Noughts and Crosses). Mini-games range from mind-bending quizzes to wacky sports games, to the just plain silly, like protecting a roast banana from oncoming apes, or flying through the sky delivering parachutes to plummeting primates.
As you unlock games in Academy Mode, you can begin to play them in the "Mini-game Collection". Here, you can choose from available mini-games, and play them as you wish to become better at them. Some mini-games also have hidden statues in them - grab these to unlock more monkey profiles in your Showcase. Finally, you can also choose to play Ape Escape Academy against up to three friends as you fight to find out who's the best. [source:mobygames]
Distribution :
Retail - Commercial
Platform(s) :
PlayStation Portable (PSP)
Links